STARGAZING PHOTO SHOOT EXPERIENCE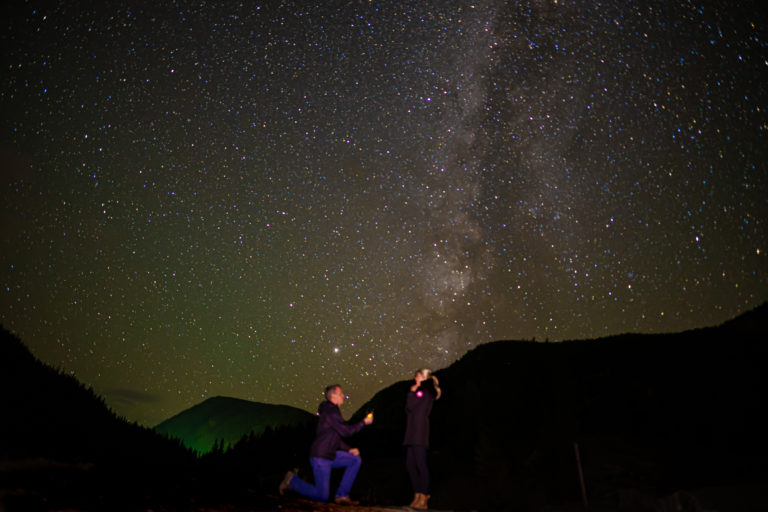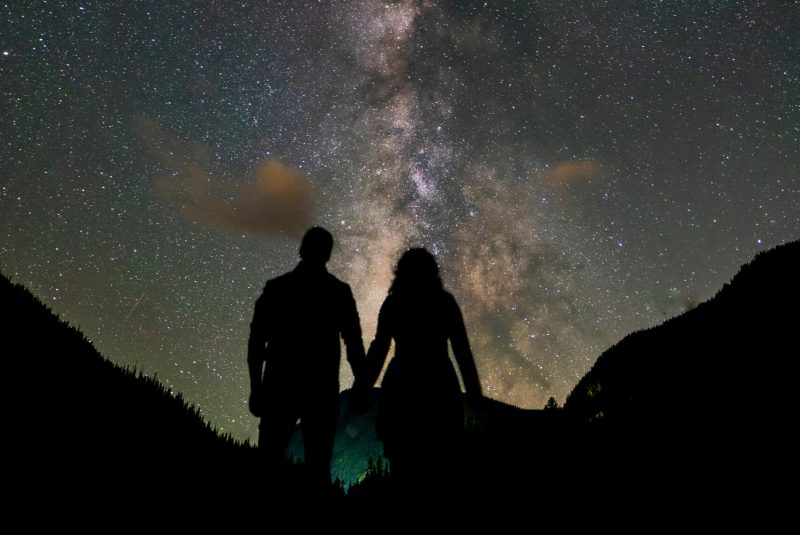 Bring your partner for a photo shoot of you stargazing in the mountains. This is the perfect experience for proposals, anniversaries, and couple's photos. We stop at specific overlooks and I take photos of you under the stars. What better way to experience a love that's out of this world.
What We'll Do
We will meet in the mountains near Idaho Springs, Georgetown, (about 30 min from Denver) or anywhere in Colorado you would like that provides the landscape you are looking for. We will tour several different specific locations and capture a variety of pictures under the stars and Milky way. 
Date Nights and photo shoots are a private experience and can include a lesson, a photo shoot or both.
Commercial photography bookings should consider the hourly rates listed under the photo shoot section.
What I'll Provide
Anything that will make your experience with your loved one special. We can go over special requests separate but the basic package includes an astrophotography photo shoot and a stargazing tour. We will spend 15-20 minutes at each stop and I will capture you and your group under the stars.
Where we will be
Jeep trails in Colorado have been some of my favorite day adventures. We keep our tours to specific locations that will be provided to guests upon booking. Mostly our locations will be safety, weather and forecast dependent. You can find more information about our locations under our policies and procedures section. 
Misc
COVID 19: We are respectful of all different perspectives of the COVID 19 virus. We are committed to operating per Colorado state policy and procedures around social distancing, sanitization, and health and safety. We happily support any other comfort requests you may have such as taking your own car, bringing your own drinks, or whatever you might like. Our goal is to provide a relaxing experience to engage in a healthy and loving moment.
If mountain driving scares you, just let me know and we can keep it to paved roads. I'm happy to accommodate any concerns you may have. My goal is to have fun too!
If you are vacationing in the mountains, I'm willing to meet you anywhere you are permitted to be.  Special request permitting can take some time, so please let us know as far in advanced as possible if you are wanting us to come to you.  For smaller bookings, we ask for this request to only be made on nights we are not holding our typical tours. (Tues-Thurs). 
If you would like to learn astrophotography, I offer astrophotography experiences as well.
Read our full refund policy here.
*Due to permitting requirements needed for photo shoots/commercial photography, I will reach out after you book with additional details. 
Gift Cards
We are happy offer gift cards for whatever amount you would like, which can be applied to any type of experience. Contact us (maggie@coloradoastrophotography.com) directly to purchase. 
"Maggie was a great photographer and teacher. She showed us really cool effects and tricks to getting the perfect picture. My girlfriend and I were very comfortable with the setting and ride to the mountains. Her energy is bright and welcoming and made the over all experience something we cherish for the rest of our lives. I will definitely do this again!
Frequently Asked Questions
Of course, I'm happy to arrange flowers, dessert, champagne, a cozy bachelor style "date night" under the stars scenario.
The star gazing photo shoot includes stops at gorgeous mountain locations and digital images of you and your loved one or bestie.
Star gazing photo shoots are for anyone and everyone! We're happy to photograph couples, besties, families, anyone!